I tend not to buy much stuff, really, as I hate spending money and I have no where to put new stuff. I live in a shoebox! That being said, I've gained a few items of late because of Christmas and just plain wanting. I figured why not share them with you?
Foam Rollers
I got these foam hair rollers because I love wet-set curls and vintage hair. I've actually been putting off buying them for so long but when I got some vouchers for Christmas I figured why not let someone else buy me some? In a way… Anywho, I love them. I might need to get a larger set as these ones are quite slim, or at least another pack just so I have the option of adding fuller curls.
Lunch Box
I bought this lunch box recently because I hate plastic tupperwear and I wanted to commit to preparing my own lunch every day, cut down on plastic and generally be a better person. After quite a bit of shopping around I stumbled onto this one and I love it. It's stainless steel with a bamboo lid which doubles as a chopping board. How. Cool.
Chopsticks
Finally! A new set of chopsticks, I hear you cry! Or… maybe not. But I've been meaning to grab a new set for ages and then I saw these and had to buy them. So cute. Not an easy transition if you're used to the much rougher textured take-out chopsticks you get as the wood is quite smooth but if you're a pro, like me, you'll be fine!
Meditation chair
Aka our new gaming chair. I bought this for my boyfriend, actually. I wanted to get him a gaming chair that wasn't crazy expensive and had a genius idea to look into meditation chairs instead. This one also has the added bonus of flat-storage, which is what I needed, so it's comfortable but also lays flat so it can be stored under the sofa!
Whiteboard for the fridge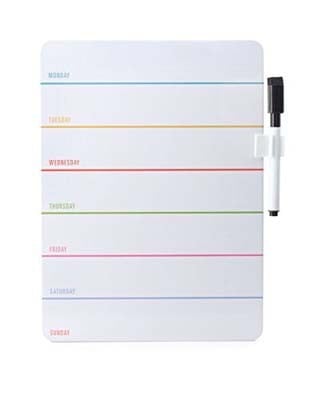 Seems like an obvious choice, but for ages I was just using paper to plan meals for the week, which is so wasteful and annoying! I saw this in Waterstones and snapped it up because meal planning is life.
Fairylights
These cute fairylights are from Paperchase but I got them just before Christmas and they don't seem to stock them anymore, which is a shame! I love the splash of colour they add to my desk. They still have the gold ones, though, which are just as cute!
Label Maker

Living my best life after getting this; something I've wanted since I was a kid!
I made some gifts for my friends for Christmas and stuck some home made labels on them and, let me tell you, it looked cute. I'm about to make a new batch of stuff (keep your eyes peeled) and this label maker is going to regret coming home with me!
If you bought anything cool recently let me know!!
Sam
ps. all of these links are affiliate. You will not be charged for using them; if you make a purchase from a link I will make a little commission, that's all! 🙂