As you know I dyed my hair Rose (Aka candy floss pink) with Bleach London's Rose dye: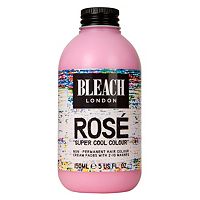 And the results were fabulous.
I just wanted to do this follow up post because I feel like it's probably worthwhile for others who are looking to find real information on how the product works!
I loved using the product. It was so easy and whilst I had to leave it on my hair for longer than they suggested (isn't that always the way? For once I wish a company put the actual developing time on the packaging!!) the results were lovely!
Obviously this is just MY hair I'm talking about and I mentioned in my last post that my hair doesn't hold onto colour. Still… I'd have hoped the colour would last longer. I washed my hair once and the colour is 90% gone.
You can see the colour is now slightly peachy and, whilst cute, it's not pink.
I know the comments I may get: did you wash with hot water? (nope, always luke warm). Did you leave the colour in long enough? (yep, longer than I was supposed to). Does your hair want to be pink? (no. It hates me).
Others may have had different results and the colour may have stayed for them! Other people might enjoy the fact that the colour is a one-wash-out kind of deal. For me? I wish it had stayed longer. I'm going to use the rest of the bottle to do it again but then I think I'll move to another product.
This is in no way a bad review, just a perspective because I'll no doubt buy more Bleach London products just for flash in the pan colours!
If you've used them please let me know what you thought!
Sam